Glue Down Wood Floor Removal in Arkansas
Removing Wood Flooring & Glue
Hardwood floors can be installed in three different
ways. They are either floating, glued-down or
nailed down. No matter which type of installation
you have wood flooring removal can be a huge
task, especially removing the glue, but with the
right tools and techniques,
McGowan Dustless Floor
Removal can accomplish it
efficiently and prepare your
space for a fresh flooring
installation.
Concrete Leveling in Arkansas
Dealing with uneven interior
slabs can be incredibly
frustrating and even
dangerous. Not only are they
an eyesore, but they also pose
a serious tripping hazard for
you and your family. However,
a full concrete replacement is a costly, invasive,
and time-consuming process. We can level one
room or all your rooms in your house. This also
keeps moisture from coming through the crack
loosening the floor above. Let Mcgowan Dustless
Floor Removal level your room or smooth the
cracks out.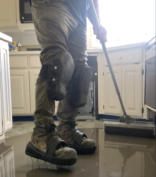 Tile Floor Removal in Arkansas
Tile flooring has been a
popular choice for its
durability, aesthetic
appeal, and easy
maintenance. However,
there comes a time when
you might need to remove
that tile floor, whether it's due to wear and
tear, a renovation project, or simply changing
the look of your home or business. While tile
flooring boasts numerous advantages, it's no
secret that removing it can be a huge task.
McGowan Dustless Floor Removal
will take up
your tile and thin-set vuitually dust free and
grind down your thin-set smooth.
Glue Down Carpet Removal in Arkansas
Glue down carpet, because of its durability and
seamless appearance, has been used in homes
and commercial spaces for years. Carpet
eventually will wear out or sometimes its just
time for a remodel. Removing glue down carpet
requires more than just a little elbow grease.
There are two common methods for glue down
carpet installation, direct and double glue down
processes. Direct glue down carpet installation is
commonly used in business or commercial
locations. This
carpet is glued
directly onto a very
smooth floor
surface typically
wood or concrete.
This method is
effective for large
areas where
durability is needed
because of rolling traffic like wheel chairs or
carts. The second type of glued down carpet first
has a pad glued to the carpet and then that
padding is glued to the floor. McGowan Dustless
Floor Removal can safely remove that old glued
down carpet quickly and prevent any potential
damage to your subfloor.
Decorative Concrete Floor Removal in
Arkansas
There are generally three reasons for
removing decorative concrete. You may have
severe traffic that has caused the appearance
to become worn and unattractive, you may
have surface cracking that needs to be fixed
and then
resurfaced or
you might just
want to change
the appearance.
No matter what
the reason with
McGowan
Dustless Floor
Removal that process is doable and best of all
– It's Virtually Dustless!
There are only two ways to remove stain
from concrete. One way requires caustic,
potentially dangerous chemicals and lots of
time and sweat. The other way is to use
industrial machinery to remove that layer of
decorative concrete down to a level that is
ready to be refinished with your choice of
flooring. McGowan Dustless Floor Removal
has what it takes to accomplish this.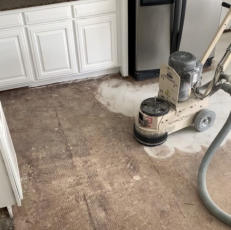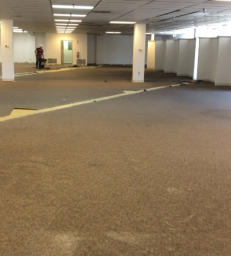 Custom Shower Builder in Arkansas
When it's time to upgrade your master
bathroom shower or build a new shower in
your guest bathroom, finding a quality
contractor is essential. At McGowan Dustless
Floor Removal, we have been building top-
notch shower
enclosures for over
20 years. Those 20
years of
experience means
you can be sure
that when your
custom shower is
done, it will be be
done right.
Our custom stylish showers are made to last,
incorporating mold-resistant Microban
technology for added durability. We take pride
in making sure your completed project is
exactly what you want.
Polished concrete is a durable and attractive
flooring option that uses existing concrete
surfaces. Originally developed for commercial
use, it has now gained popularity in residential,
retail, and commercial settings.
To achieve the polished finish, concrete surfaces
are ground with finer diamond abrasives,
enhancing texture and wear resistance.
Unlike stained concrete, polished concrete
doesn't require a sealer
layer, making it more
durable and eliminating
the need for waxing or
coatings.
Concrete polishing
transforms plain indoor
and outdoor surfaces
into shiny ones without
the need for waxing.
The level of shine can be customized, and a
concrete sealer provides extra protection.
Choose polished concrete today with the help of
an expert concrete flooring company!
Aside from polished concrete, there are two types
of concrete stains available:
Acid Stains: These reactive stains create unique
patterns by penetrating deep into the concrete,
resulting in antique or variegated appearances.
Water-based Stains: These non-reactive stains
produce translucent to opaque colors, ideal for
specific designs and patterns.
Color options vary depending on the stain type
chosen. Acid stains offer earth tones, while
water-based stains come in standard colors like
black, white, and metallics. Mixing different colors
allows for more interesting hues. Sealing the
stained surface is recommended to maintain
deep, polished colors permanently. McGowan
Dustless Floor Removal is the one to call.
Serving the following areas:
Fayetteville | Springdale | Rogers | Bentonville | Fort
Smith | Conway | Little Rock | North Little Rock
Arkansas | Missouri | Kansas | Oklahoma | Texas
We are a full service
flooring company!
Epoxy garage floors offer a multitude of
advantages for homeowners. Firstly, they are
incredibly durable, withstanding heavy traffic,
impacts, and chemicals. This durability translates
into longevity, saving
homeowners money
in the long run.
Additionally, epoxy
floors enhance the
aesthetics of a
garage, providing a
sleek and modern
appearance.
Maintenance is a breeze, as they resist stains and
are easy to clean. Epoxy coatings also improve
safety with their anti-slip properties and fire-
resistant qualities. Overall, an epoxy garage floor
is a smart investment for both functionality and
aesthetics. McGowan floors can epoxy just about
any color. We can add flakes or just aluminum
oxide for a non-slop finish.